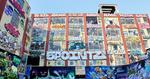 Title
Is the Writing on the Wall? 5Pointz & Street Artists' Rights
Description
For over a decade, aerosol artists, led by curator Jonathan Cohen (Meres One), painted the façade of a derelict factory complex in Long Island City, transforming it into the world famous 5Pointz, aka the Institute of Higher Burnin' or 5Pointz Aerosol Art Center, Inc. On November 19, 2013 the owner of the building, Jerry Wolkoff, whitewashed the building complex without warning. A year and a half later, the building was demolished, to be replaced with a luxury condominium. Following a three-week trial in late 2017, a Federal District Court last February awarded $6.75 million to 21 of the artists under a rarely litigated statute, the Visual Artists Rights Act of 1990 (VARA), which protects artists' moral rights in their work. The case is now on appeal before the Second Circuit. Stake holders on both sides are trying to make sense of the significance of this momentous decision, which ruled that 45 of the works were of "recognized stature" under VARA. Join us for a discussion with insiders and experts on this ground-breaking case, including Jonathan Cohen aka Meres One, Founder of 5Pointz and 5Pointz Creates, Marie Cecile Flageul, Co-Founder of 5Pointz Creates and Curator of the Museum of Street Art (MoSA), Angelo Madrigale, Director of Contemporary Art at Doyle, Renee Vara, Founder & CEO of VARA ART, and Steven R. Wagner, Esq., Partner at Wagner Berkow LLP. The discussion will be hosted by Judith Prowda, Esq., MA in Art Business Faculty, Sotheby's Institute of Art- New York.
Publication Date
1-29-2019
Publisher
Sotheby's Institute of Art-New York
Keywords
Street Art, Art Law, VARA
Disciplines
Entertainment, Arts, and Sports Law
Recommended Citation
Prowda, Judith; Cohen, Jonathon; Flageul, Marie Cecile; Madrigale, Angelo; Vara, Renee; and Wagner, Steven R., "Is the Writing on the Wall? 5Pointz & Street Artists' Rights" (2019). Speaker Series. 14.
https://digitalcommons.sia.edu/speaker/14
Creative Commons License


This work is licensed under a Creative Commons Attribution 4.0 License.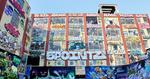 COinS